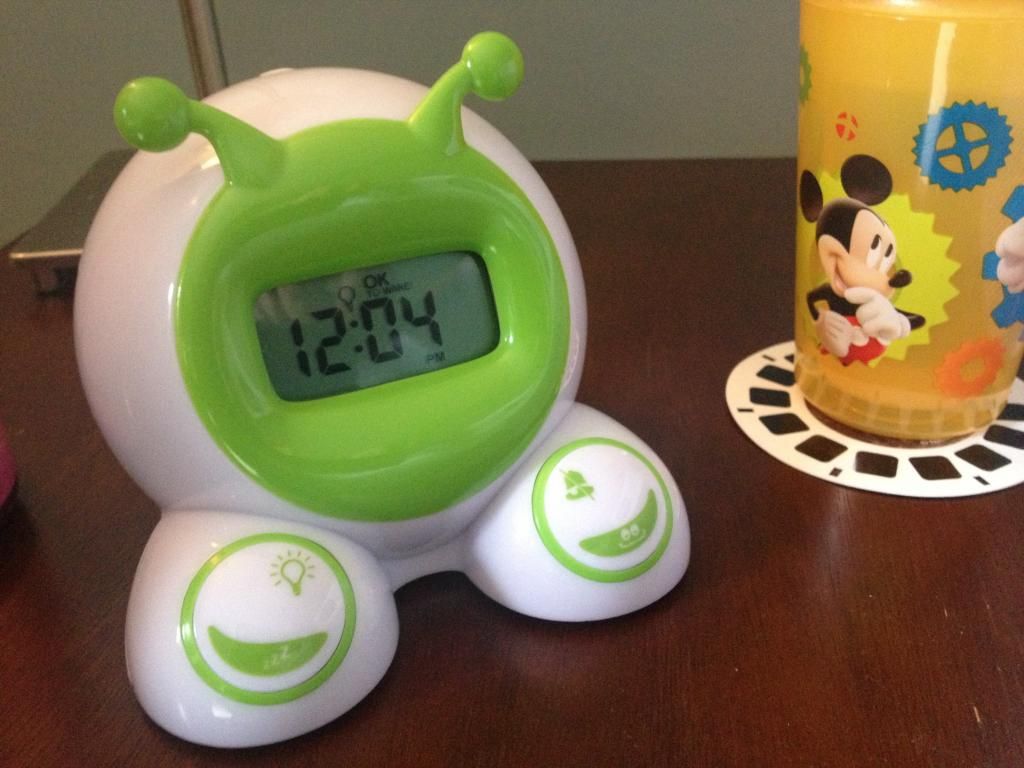 We wake up each morning to the sight of a green light floating towards us while a little voice says, "It's green!" Eli has a clock that glows green when it's late enough to come out of his room for anything besides potty trips, freaky nightmares, injuries, fires, and kidnapping attempts. It's called the OK to Wake clock, and it is awesome. Eli thought it was pretty cool, too, for about a week. But one morning around 5:45 am, the jig was up. He was on to us. His little feet brought him down the hall and into our bed.
I rolled over and opened my eyes just enough to read my alarm clock. "Eli, was your clock green?" I asked, knowing there was no way it was. "Yes," he said. "Are you sure?" I asked. "Yes," he said, emphatically. I asked him to bring the clock to me, and as he went to retrieve it from his bedside table, I found myself wondering if the clock had malfunctioned or if he had accidentally reset it somehow. A minute later, Eli arrived back in my room holding something that was glowing indeed. But it was not green, and it was not a clock. He had found an orange light-up toy in his room and thought that he may as well give it a shot. 'Maybe Mom is too sleepy to discern colors,' he may have thought. "It's green," he said. "That's not green," I replied. And we carried on that way until I decided this was the stupidest argument I had ever had and put him back in his bed. So now I wake up to a floating, glowing green orb carried by a little boy who is proving to me that his clock is indeed green.
Events such as this may have inspired the photo below. He wanted me to make a word, and I did my best with the letters that were in the tub.